Healthcare coverage is a vital thing that can also be pricey. Low-income individuals may find themselves struggling to pay monthly premiums if they get private insurance and/or do not qualify for programs like Medicare and Medicaid. With few options to protect themselves and their families, it can cause tremendous anxiety.
However, the Affordable Care Act (ACA) subsidy can help by lowering the cost of monthly premiums for those who qualify. These subsidies work as financial aid, similar to how tuition grants and scholarships work for college students.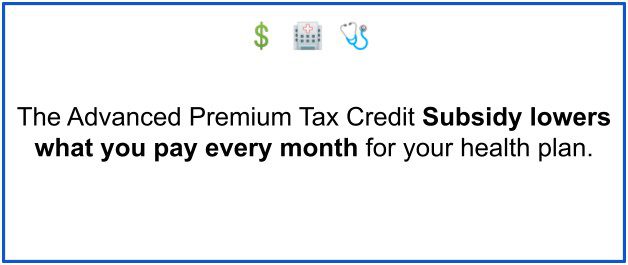 In this case, the government picks up the amount that cannot be paid by an individual or household.
How Do I Qualify?
To qualify for an ACA subsidy, your or your household's net income must be between 100% and 400% of the Federal Poverty Level. The amount you may qualify for will depend on the insurance plans available in your coverage area. Look into the different ACA levels to see how much monthly premiums cost in your zip code.
Also note that if your or your household's income ends up being higher than the Federal Poverty Level, once taxes have been filed, you may be subject to back pay for the medical costs covered throughout the previous year.
How Do I Apply for an ACA Subsidy?
To apply for an ACA subsidy, you must first meet the requirements. If you're not sure if you or your household does, you can check your eligibility through the online marketplace, and it will calculate your net income for you — letting you know if you're within the Federal Poverty Level range.
Once you know that you qualify for an ACA subsidy, you have two choices: 1) You can apply the subsidy in advance, to lower your monthly premiums as you pay them throughout the year, or 2) you can wait and claim the money that you would've saved during the year on your next tax return.
If you don't apply for an ACA subsidy or just don't think you qualify but later realize that you do, you'll be refunded once you've filed your taxes.
What Will Disqualify Me?
In order for you or your household to qualify for an ACA subsidy, those of you applying must be either U.S. citizens or legal residents currently residing in the United States.
If you're concerned about your ability to afford healthcare insurance, look into whether or not you meet the qualifications listed above, and see if you can alleviate some of your financial stress by receiving an ACA subsidy.
Get Coverage Today
If you're in the market for affordable health insurance, iHealthcare Direct can help. iHealthcare Direct is an expert in the healthcare field and our agents can help you navigate through dozens of options. Call iHealthcare Direct and see how you can get insured today!